Payment methods
An overview of the methods of payment available:
There are three possible ways to pay for your order:
Paypal
Paypal is an online payment service, with which you can quickly, easily and securely pay for items online. The benefit of using this service is that the payment process will be fast, as the payment will usually be transferred immediately to our account. Your order (if available) will generally be dispatched on the same day.
Credit Card
At Mister Spex data protection is a top priority. We check your details thoroughly at your first order to protect you from credit card fraud. Our customer service team will send a delayed e-mail response to confirm your order. How to continue with the payment will be clarified in this e-mail. 
We accept Visa, MasterCard and American Express.
Voucher/Gift Card
If you have credit in your account then you have the possibility of paying for your order with this method.
Your credit will automatically be shown in your basket. If you don't want to use you credit this time, then you can also remove it from you basket.
A gift card code can be entered manually at checkout. Please fill in the gift card/voucher code in the space provided at the ordering process.

 
How do I redeem a voucher?
Browse through our selection of glasses, contact lenses, sports glasses and sunglasses and place your selected items into your basket. When you have finished shopping, simply enter your voucher code in the relevant field.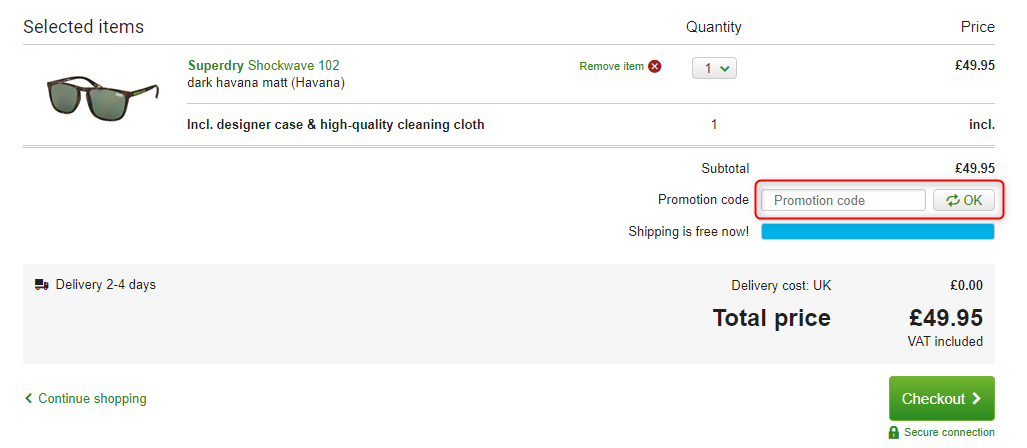 Enter the code here. The total order amount of your order, minus the value of your voucher, will be calculated and displayed. Further information on redeeming your voucher can be found on the reverse of the voucher and in our terms and conditions.
Please check that your voucher is valid before use; vouchers cannot be used in conjunction with other offers. Multiple vouchers and gift cards cannot be used for the same order.