Keep an eye on your vision – with regular eye tests
The eye's ability to see generally changes slowly and without being noticed. This is why an eye test should be done every one to two years. For children and elderly people such checks are recommended more frequently. The concept of an annual check-up exists for a reason.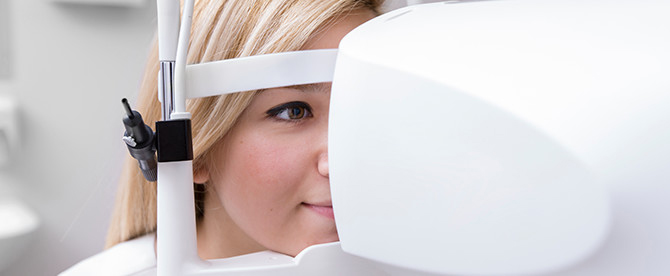 In what follows we have prepared a summary for you to learn the most important things about eye tests:
Content
How often should checks be carried out?
In the case of acute problems or a deterioration of vision, a visit to an eye specialist or optician is obviously a matter of urgency. In the absence of either of these, an eye test every one to two years is recommended. As changes in vision often occur without being noticed, symptoms such as headaches, tiredness or eye irritation may be indicators of change. For this reason check-ups are never a bad idea. The following rules particularly apply to children and the elderly:
Eye tests for children
Don't hesitate to bring your young child to an eye specialist. Children are less likely to recognise the difference between good and bad vision, so are unlikely draw attention to the matter themselves. As a rule, children should undergo a thorough examination no later than at the age of three, so as to try and prevent impaired vision from developing at all. Exception: if there is a family history of eye problems, take your child for an eye-examination between the ages of six and twelve months. Otherwise, an additional check before starting school makes sense.
Tip:Pay attention to warning signs. If your child suffers an increase in headaches, difficulties with writing and/or concentration, or asks in class to sit close to the board, it could be an indication of vision problems.
Children who already wear glasses should definitely have a check-up once a year. They are still growing, which affects the eyes too, meaning that vision can change quickly.
Eye tests for adults
The vision of elderly people changes more quickly, so an annual eye test is recommended. Furthermore, the probability of eye diseases such as cataracts or glaucoma also increases.
Why are regular checks important?
The chances of developing vision problems are very high nowadays. Our eyes are constantly being strained: TV, computer games, smartphones, long hours working at the computer, studying. Stress, exhaustion and environmental factors also take their toll – eyes can experience a burning sensation, or itching, or vision can be temporarily impaired.
A deterioration in vision often doesn't occur overnight. Particularly in the case of low corrective values or different values for both eyes the problem might be masked for a while by the "better" eye. Which of course doesn't mean the problem doesn't exist. An eye test is the only way to be sure.