The benefit of photochromic lenses
Basically, photochromic lenses provide relief for the eyes. Every day our eyes adjust to changing light conditions without us really realising it. Self-tinting lenses take some of the pressure off. One important benefit is the automatic anti-glare effect, which depends on the material.
In addition, self-tinting glasses also offer optimal protection against UV-rays. The energy from these rays is used to set the chemical process in motion and make the lenses darker. This ensures that, irrespective of the lens material, hardly any harmful UV-rays reach the eye and the glasses wearer has optimal protection at all times.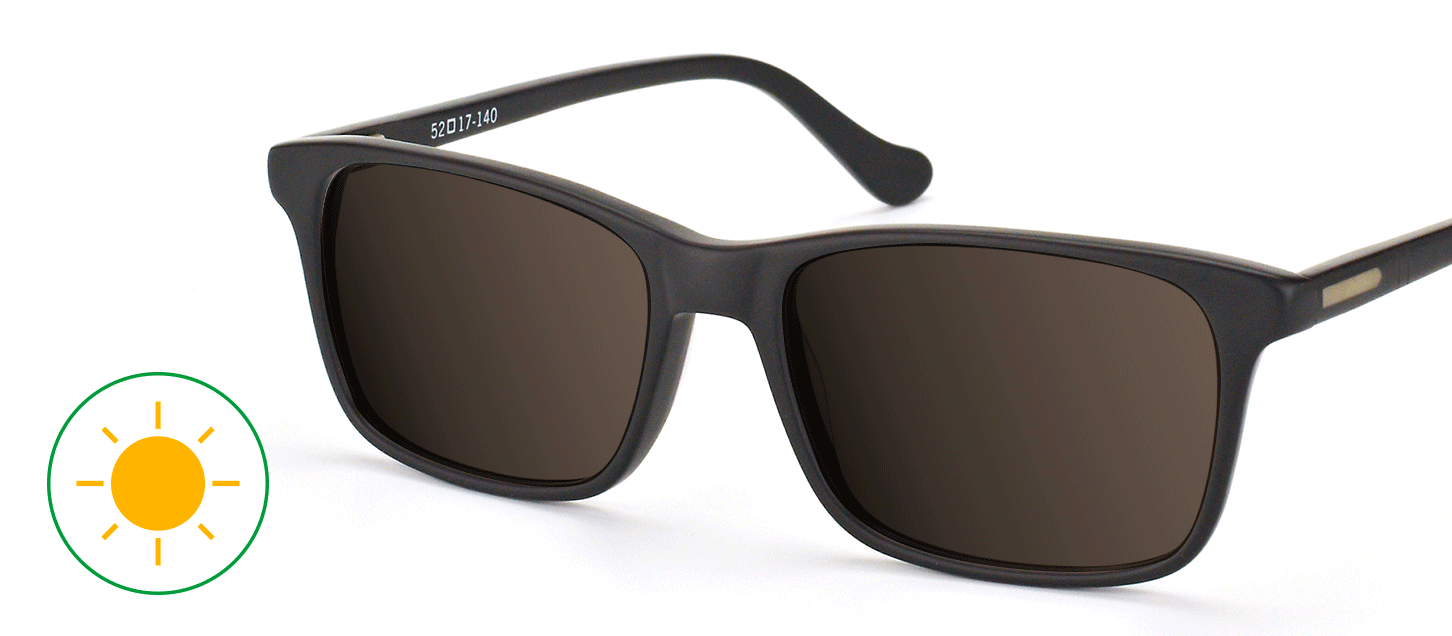 Tip: As beneficial as photochromic lenses are in other everyday situations, when it comes to protection against glare while driving you should stick to your sunglasses. The reason: in many cars the windscreen contains a UV-filter which doesn't let in enough UV-rays to properly trigger the chemical process inherent to photochromic lenses. Thus the lenses only darken marginally or not at all. In either case the desired effect is not achieved. There are, however, now manufacturers who develop photochromic glasses especially for drivers. These lenses react to visible white light, rather than UV-light, and so are also suitable for driving. Therefore, it's recommended that before purchasing you discuss with your optician whether the glasses are suitable for driving.
Photochromic lenses: how they work
Photochromic lenses are coated with molecules that react to changing light and trigger a chemical reaction on the lens surface. In the case of mineral lenses silver halide molecules transform into metallic, light-absorbing silver. For plastic lenses indolino-spironaphthoxazins are used, which unfold like flowers and darken the lenses. When the UV light recedes, so does the tinting effect.
Photochromic lenses can manage a darkening effect of up to 85%, a process that requires from about 60 to 90 seconds. The lightening effect requires a little longer, with a notable change taking one-and-a-half to two minutes. The full lightening effect can, depending on the manufacturer, take up to ten minutes, leaving a basic tint of about 10%. The time taken to darken and lighten again varies from lens to lens and among different manufacturers.
The process also depends on temperature: the warmer it is, the slower the reaction. In other words, in summer photochromic glasses need longer to achieve their effect than in winter.