Healthy eyes thanks to UV protection
In addition to visible light, the sun also sends invisible rays to the Earth. While UV-C rays are absorbed by the Earth's atmosphere, UV-B and UV-A rays penetrate the atmosphere and reach the Earth's surface. Even in the shade or in cloudy conditions the exposure level can be as high as 90 percent. Particular caution is urged at the sea or in mountainous areas: bright sand, water and snow reflect sunlight and heighten its effect by up to 70 percent.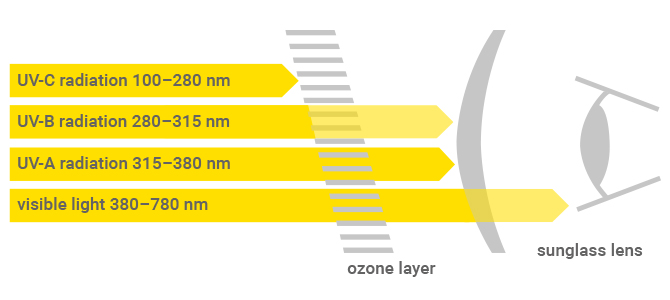 Anyone who has ever suffered from sunburn knows how strong the effect of UV radiation can be. When it comes to the eyes, UV-rays can lead to problems such as conjunctivitis, corneal inflammation and in the long-term possibly even cataracts. Sunglasses with guaranteed UV-protection are therefore essential for the health of your eyes, whatever the weather and surroundings. If the sunglasses are certified as UV 400, it means they filter UV-rays with a wavelength of up to 400 nanometres, thus protecting you from both UV-A and UV-B rays.
Warning: Sunglasses with dark lenses but no UV-protection are more dangerous than you might think. The lenses shield the eyes from visible light, which means the pupils distend more. However, the UV-rays still get through to the eyes. The result is that a larger proportion of harmful light reaches the distended pupils.
On the safe side – the key features of quality sunglasses
Sunglass lenses should have no streaks, air bubbles or inclusions and should resist rather than yield to light finger pressure


Lenses with a fully anti-reflective coating minimise reflections that may be caused by light entering from above or the sides and hitting the back surfaces of your lenses.


Alongside lens quality, frame design is also important. It is often falsely assumed that sunlight only hits the front of the glasses. However, stray light can come from above or the sides and get behind the lenses. Sufficiently large temples and a frame that is the right size for your face are therefore also important. Ideally, the sunglasses should be slightly broader than your face and a little higher than the eyebrows.


An important indicator of quality is the CE-label, which every pair of sunglasses sold in Europe has to carry. It's situated on the inner side of the temples and is evidence that the sunglasses correspond to EU standards.
Tip: It's quite easy to create a fake CE-label. So if you want to be absolutely sure that your sunglasses offer the necessary protection, it can be a good idea to get your optician to test them.
This might also interest you:
> Prescription sunglasses - purchasing advice
> Sports glasses - the right sunglasses for different sports
> Sunglasses for driving - what to look out for